Discover how to optimise your business workflows & productivity with the power of Microsoft 365!
There is no doubt that Microsoft 365 is the most popular office productivity software out there. The company has 48.8% of the global market, just edging out Google's apps by a few percentage points.
It's used by individuals, small and medium-sized businesses, and larger enterprises. It fulfils all of the needs of a modern office, with a wide range of services available, from word processing and spreadsheet work to cloud storage and video conferencing.
Since Microsoft 365 has so many apps to choose from – over 20 in fact – it can be easy to miss its range of helpful features. It is human nature to stick to what is familiar. However, this results in them not being able to take advantage of the time-saving and money-saving features of Microsoft 365, beyond its core applications.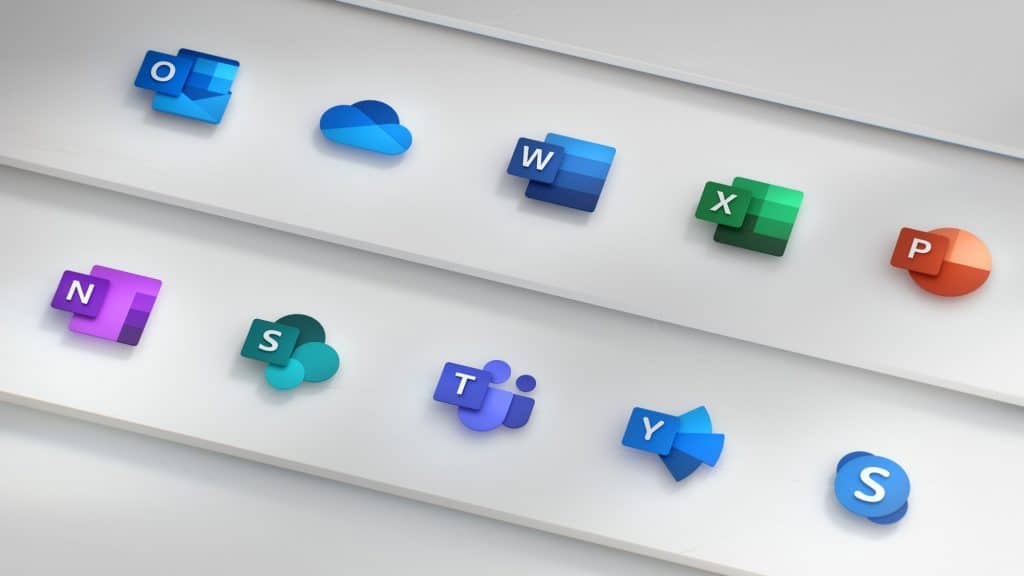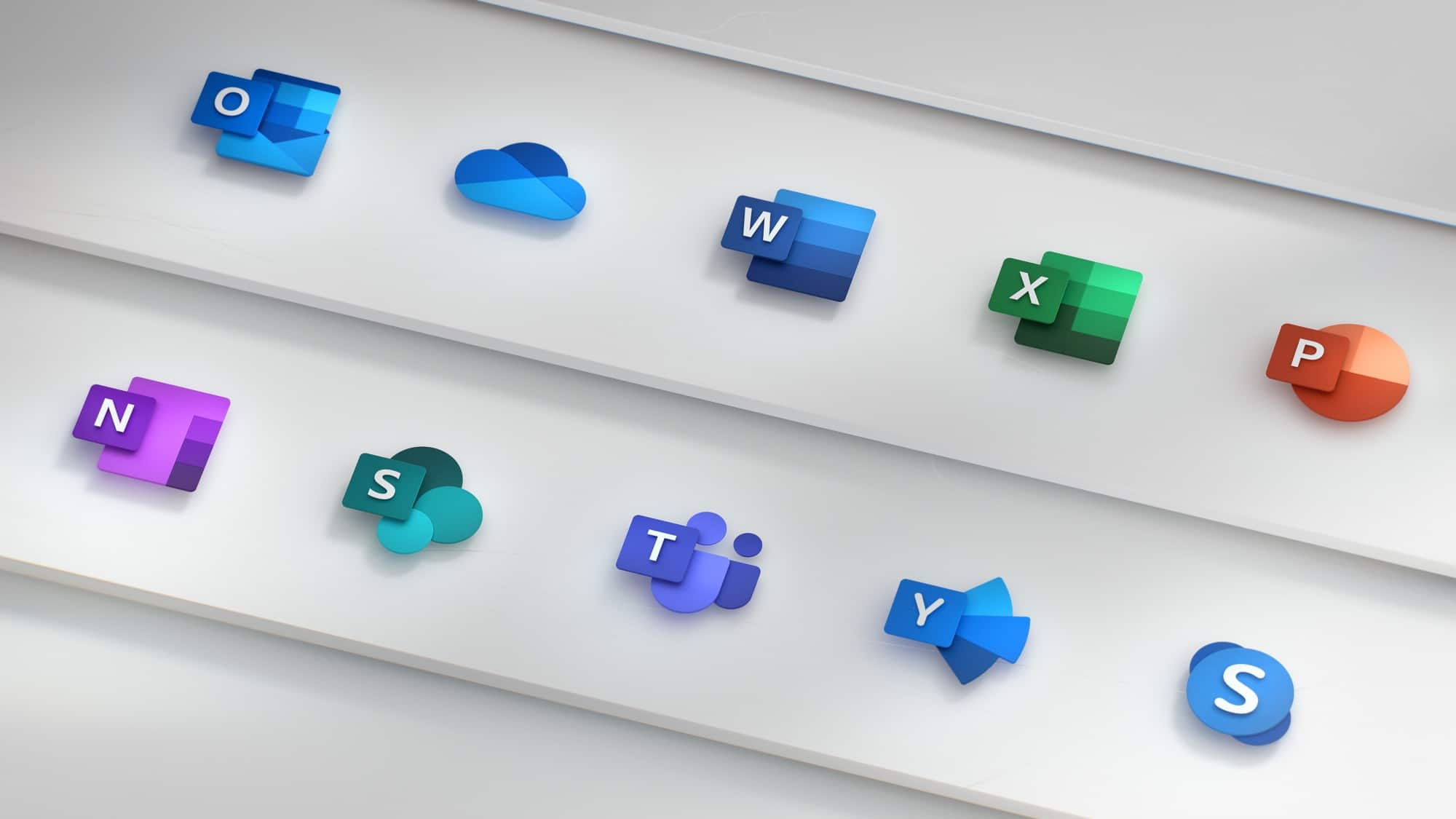 Some of the many apps you get, depending on your subscription plan, include:
Excel
Word
PowerPoint
Outlook
To Do
OneDrive
Teams
Forms
Defender
SharePoint
Yammer
Lists
Access
Bookings
Intune
Planner
Visio
Want to get more value from your Microsoft 365 subscription? We'll go through some of the most helpful apps and features that you may not know about below so keep reading on to learn more!
Get More Out of Microsoft 365 With These Top Tips!
1. Use Search to find functions instead of the menu bar
The menu above the search box is full of useful functions. You can use it to change your margins, page orientation and much more! You can now find what you are looking for in a flash with one simple click.
With an advanced search box at the top of every application, you don't need to waste time clicking around on different tabs; just type "Margins" into this amazing tool and get your answer right away
You can stop wasting time clicking through one tab after another, and instead, use the search box at the top saving you time and stress!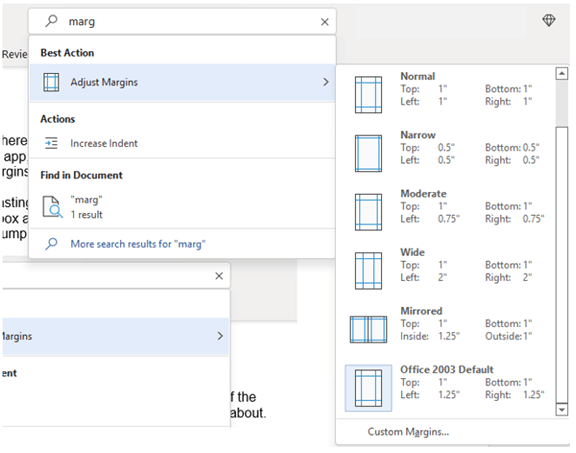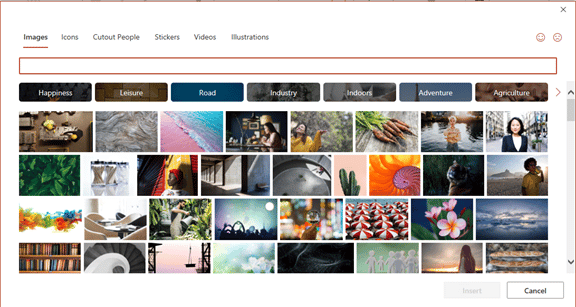 2. Leverage Free Stock Images, Icons & Videos
Most businesses require professional images for a variety of purposes, including on their websites, brochures, marketing materials, social media and presentations. But finding high-quality copyrighted business images can be costly.
If you're looking for great images to use in your marketing materials, then the Microsoft 365 treasure trove may be just what you need! Inside Word, Excel & PowerPoint, there is an abundance of free photos and videos that you can use to help make any business project stand out from competitors! There are also videos, icons, and even 3D models, all there to select from!
Find them by going to Insert > Pictures > Stock Images. You can then use the tab at the top to tab between the different media types. Then, click to insert it directly into your document, spreadsheet, or presentation.
3. Save Time by Using Data Types in Excel
Data is key to any company, but it can take days of research just for one project. You might not know that inside Excel, you have access to several databases with tons of helpful facts and figures on different topics – from topics like chemistry and populations to nutritional values of food items and yoga poses!
These data types are great because they allow users instant gratification by filling them out quickly in seconds, saving lots of valuable time and resources! You're able to quickly leverage information that's stored inside Excel's "data types" in a matter of seconds!
To start this process follow the steps below:
Begin by adding your list (e.g. list of menu items)
Highlight your list
Click the Data tab
In the Data Types window, choose the type of data it is (e.g., Food, Plant, etc.).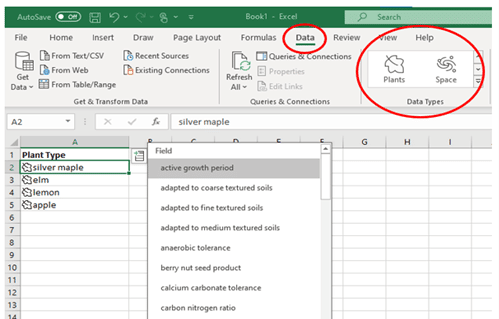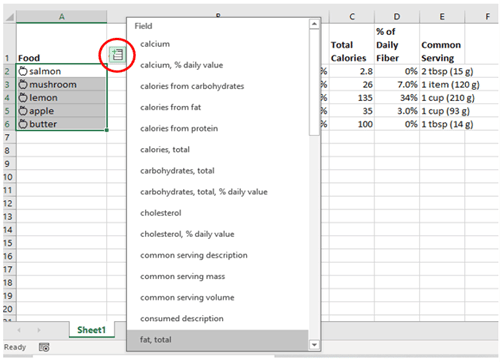 Next, click the small database icon that appears at the top of the list.
Choose the type of data you want.
After you complete these steps, the details will populate into the next open column on the right for each list item. It's as easy as that!
4. Save Time on Customer Surveys with Microsoft Forms
Microsoft Forms is one of the best-kept secrets of Microsoft 365! This cloud-based survey and form builder makes it easy to send out surveys to your desired recipients.
You get the results back as soon as they click "submit" on the cloud-based form. Alternatively, you can download them directly into Excel or upload their answers onto one of many software templates for simple viewing and graphing purposes!

5. Use PowerPoint's 'Presenter Coach' to Improve Your Public Speaking & Presentation Skills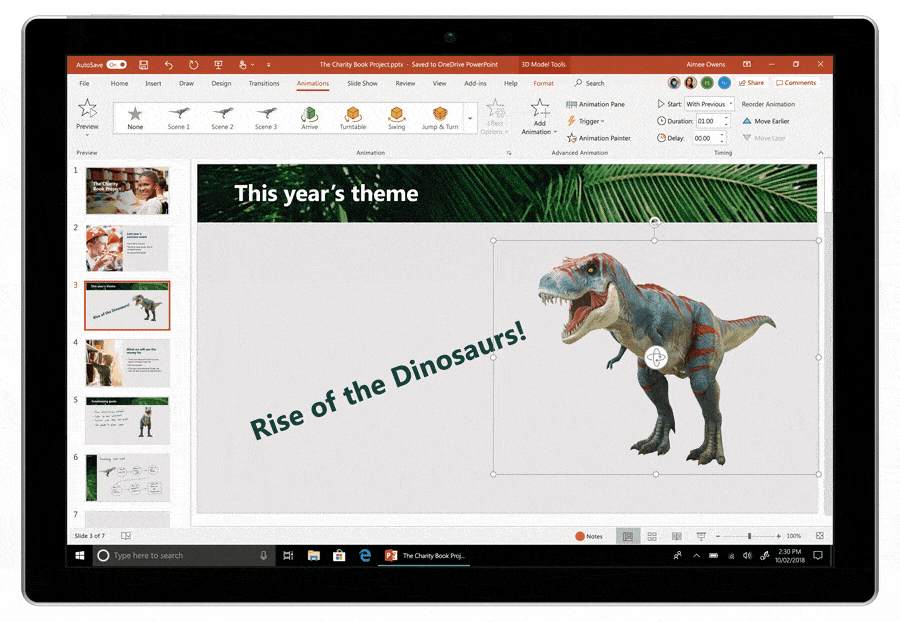 PowerPoint can help you feel more confident when giving presentations. With Presenter Coach, this AI-powered feature will provide you with various helpful tips and advice on improving your presentation skills! You just need to turn this coach option on during practice sessions for instant feedback from the slide show menu or by clicking on it with a mouse cursor.
The tool points out areas where adjustments may be needed such as speaking pace, use of filler words (e.g. umm), repetitive language and much more. Press the "Rehearse With Coach" option on the slide show menu to activate this mode today!
6. Save Recurring Email Text in Outlook's 'Quick Parts'
Do you find yourself retyping the same information in your emails? If you send specific emails to your customers with the exact wording in them, such as how to find your building, standard delivery information, parking details or how to contact Customer Support, there's now an even easier way to save time!
Instead of retyping the same information repeatedly, in Microsoft Outlook, go into settings then choose 'Quick Parts' in the Insert section. Follow these steps:
Create a Quick Part by highlighting the text to save in an email.
On the Insert menu, click Quick Parts.
Save Quick Part.
When ready to insert that text into another email, just use the same menu. Then click to insert the Quick Part!

7. Create a Keyboard Shortcut to Paste as Unformatted Text
Keyboard shortcuts are a lifesaver and a great way to save time when working on the computer! Sometimes you need to copy and paste text without any formatting.
Luckily for MS Word users, there is an easy way of doing this with one handy keystroke: "paste as plain text only" This will remove all other typesettings from your document so it doesn't get messed up in the process.
Here's how to make a keyboard shortcut for this:
In Word, click File > Options.
Click Customise Ribbon.
At the bottom of the panel, next to Keyboard shortcuts, click Customise.
Scroll in the left pane to All Commands.
Look for "PasteTextOnly"
Type your keyboard command, then click Assign.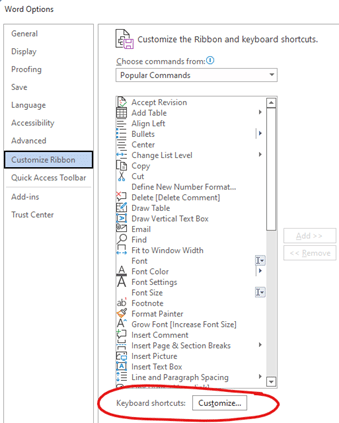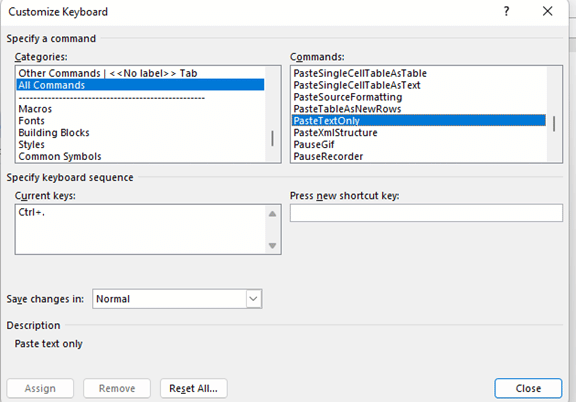 Need Help Migrating To or Optimising Microsoft 365?
Microsoft 365 allows you to reimagine how you work and is a powerful suite of tools that help you to be more productive, secure your data and keep track on the go! It has features like security enhancements for ultimate peace-of-mind, along with many time-saving utilities that are perfect when connected from anywhere, at any moment!
Microsoft 365 is a complete solution for your business that will help you achieve your short and long-term organisational goals and objectives, all while keeping your data secure. Microsoft 365 Business is more than just applications – it promotes a comprehensive, creative and collaborative environment with enhanced security.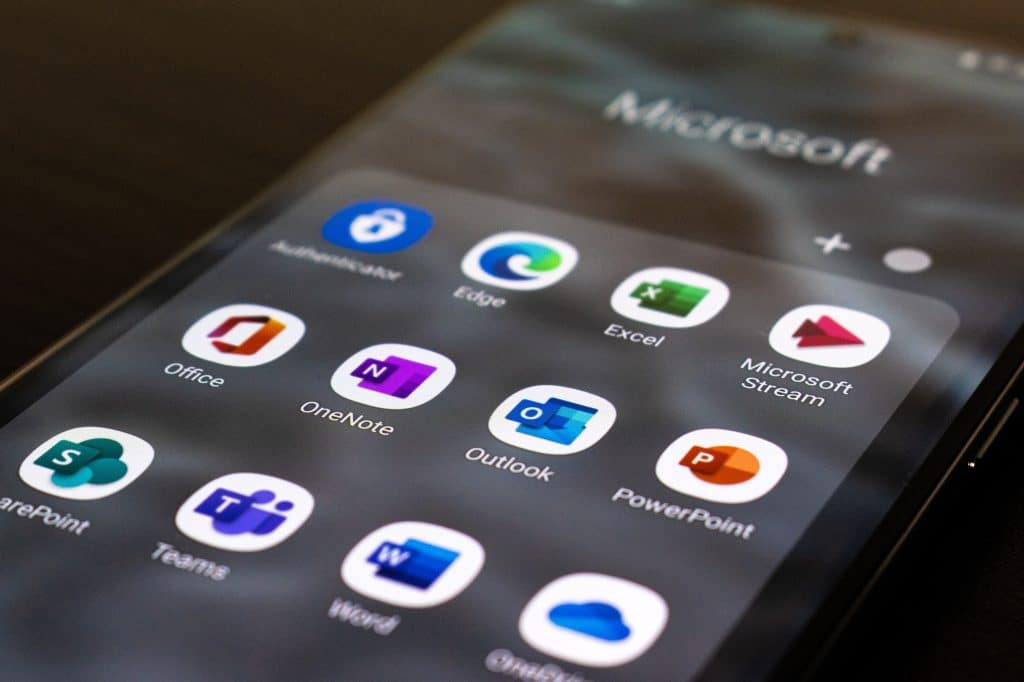 Microsoft 365 allows you to run your business from the cloud, marking an end to days when you have to spend large amounts of money upfront for an onsite server and software. While reducing costs and improving cybersecurity, Microsoft 365 for business allows you to empower your employees to work remotely. Microsoft 365 Business is available on a Basic, Standard or Premium Plan, according to your budget and specific business needs.
If this sounds like something your business can benefit from then don't hesitate any longer! Schedule an appointment with us today to discuss our range of Microsoft 365 packages to suit your business needs and staffing requirements!
IT Leaders can help you get the most out of your Microsoft 365 experience with our innovative solutions! Get in touch to find out how we can help save time and money today!